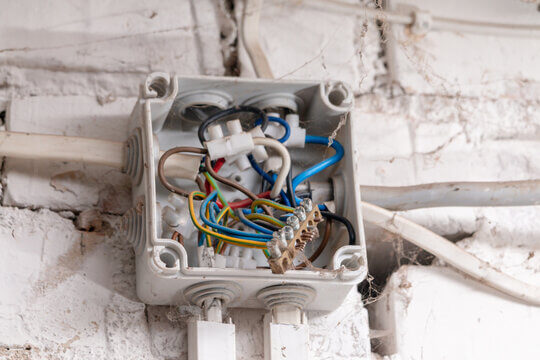 Junction boxes are an essential part of the electrical infrastructure used in a wide variety of industries and applications. As a critical component, junction boxes offer protection against electric shock, improve safety and provide a reliable connection point for hardwiring electrical systems. Becker Mining USA understands the importance of this vital part of any electrical system and provides dependable, high-quality junction boxes for all industrial applications.
What are Junction Boxes?
Junction boxes provide a safe enclosure for conducting wiring projects. They safeguard against accidental shocks because electricity is properly contained inside the box. This prevents electricity from coming into contact with any water or metal surfaces outside the box, protecting both personnel and equipment from harm. Additionally, junction boxes protect exposed wires from corrosion due to moisture in environments with varying temperatures.
Industries such as mining typically have unique requirements due to rough conditions in the field, which require special junction boxes made to withstand environmental hazards like dust, dirt, and vibration while still providing necessary connections between wires and components. Becker Mining USA's junction boxes meet these rigorous industry standards while effectively encasing even complex wiring projects that use multiple circuits/connections within one unit. All products are thoroughly inspected to ensure they meet customer expectations and functionality requirements every time.
Importance of Junction Box
Junction boxes play an important role in mining applications, providing secure connections and safety protections against electric shocks. In these industrial settings, junction boxes are designed to be dust-tight, submersible, and chemical resistant, allowing them to withstand the often harsh environmental conditions of the mining industry while still providing reliable protection. With high-quality products from Becker Mining USA, customers can safely conduct wiring projects without having to worry about corrosion damage or accidental electrical hazards. By investing in quality junction boxes that meet their specific application needs, miners can ensure their operations will run smoothly and reliably for years to come.
A wire splice is when two pieces of the conductor are connected with a joint and are designed to complete an electrical circuit. In junction boxes, the wire splices must be properly sealed to protect them from water, dust, and other contaminants that could damage the connection or create an accidental electric shock risk. At Becker Mining USA, customers can rely on quality junction boxes to provide secure wiring solutions that consistently meet local, state, and national electrical codes for maximum protection.
From sensitive electronic monitors to communication systems, junction boxes provide a safe enclosure for wiring projects and keep electricity from coming into contact with any water or metal surfaces outside the box. By shielding these components from dust and other hazards and keeping electrical components within the box, junction boxes can help ensure that miners' equipment will last longer and perform at maximum efficiency.
Contact Us
Becker Mining USA provides high-quality junction box solutions designed to handle extreme operating conditions specific to the mining industry or other harsh industrial environments, including dust-tight, submersible, and chemical-resistant models depending on customer needs. Their reliable products enable customers to complete projects quickly while adhering to safety regulations.
At Becker Mining USA, you will find products that exceed your expectations. Whether you need a single dedicated junction box or an integrated system with personal monitoring capabilities across multiple locations utilizing wireless technology - they deliver dependable solutions every time! Call us today!
Products We Offer:
Power up your productivity with Becker Mining's transformers - the reliable and efficient solution for all your power distribution needs. Call us today!